Regular price
$ 279.99
Sale price
$ 149.99
Unit price
per
Sale
Sold out
🚀 Grow Your Social Media Following by taking Professional Quality Video and Photos!
☹️ Are you tired of your Social Media not growing and the Low Quality of your videos and pictures, fully well knowing that they could be Absolutely Epic with the right equipment and knowledge how to shoot??
That Is EXACTLY why the Socialite products were created! (It is actually a play on words, it means "Social Media Lighting") ❤️
We were so tired of poor quality photos and video, so in  Feb, 14. 2016 we decided to do something about it and created the 18" Socialite Ring Light Kit and it took off! 

Over the years this kit has evolved every year and is Always Giving You More! 🎁
This specific one is the 2022 version, which is the Ultimate 18" Socialite Ring Light Kit ever made! It is literally the "Swiss Army Knife" of Ring Lights! It has every virtually every attachment you may want, and engineers have spent 1005 hours in designing and perfecting this one-of-a-kind setup just for you!
Now yes you could go and get one of those cheap knock offs (Yes MANY have copied us) but if you want The Best that has always innovated and given 110% quality and support to its customers year after year without giving up,... then you are ready for the Ultimate Socialite 18" Ring Light Kit! 😍
Uses:
✅ Creating Viral Tiktok Videos!
✅ Professional Quality Instagram Reels with Just your Smartphone!
✅ With the iPad mount so you can see every detail or use your favorite teleprompter app for reading premade scripts
✅ Video conference calls with phone or iPad (smartphone or iPad not included)
✅ Professional content with your DSLR camera ( camera not included) 
✅ Promoting your personal brand or your business on favorite social media channel , whether its Instagram, TikTok or YouTube.
✅ Video calls using Skype, Facetime, or Facebook
✅ Professional Zoom Meetings
✅ Video tutorials, Using the Included 9" Mirror for Makeup, Lashes, Salons etc
✅ Gifting it to your favorite person who will love it!
Case Study: How Caseyyisfetchh literally Blew Up Her Tiktok to 1.4 Million Followers and Changed Her Life! (Her Story link Here) 
This Kit Includes Everything You Need!:
18" Professional LED ring light (super bright yet fully dimmable)

Aluminum 6 foot reversible light stand

Heavy duty DSLR camera Ball head mount with 1/4 fitting

2 in 1 smartphone/iPad mount that securely holds every type of  tablet and smartphone 

Wireless Bluetooth  Remote for hands free action
3 flexible phone holders 
9" full moon acrylic mirror attachment included
Carry Bag for your Ring light and all attachments 
BONUSES! Order Today and Get Included with Your Order for Free:
Tabletop Light Stand ($19.99 Value) 
360 Face Tracker Attachment ($49.99 Value)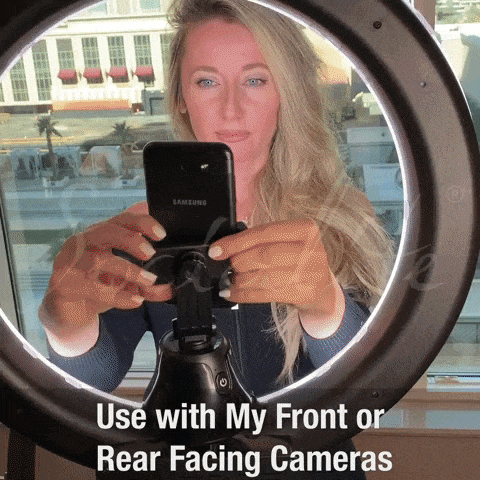 Detailed Benefits:
At Full Brightness (4800 Lumens) the high output LED light bulbs are cool to the touch, so you can focus on the

 

hottest

 

thing in the studio ..

 

You!
Includes our 2 in 1 iPad / Smartphone mount which holds securely Any smartphone, tablet, DSLR Camera or iPad (even the massive 12.9 iPad Pro)
Includes a Heavy Duty DSLR ball head pivot to mount your expensive digital camera securely to the ring light.
Includes an 9" full moon unbreakable acrylic mirror for superior safety and is the best for traveling. Also the mirror is purposely designed to be distortion free so you can see every detail in the best lighting.

Comes with 3 extra flexible phone holders so you can shoot in vertical and horizontal positions at the same time. This is ideal for shooting TikTok / Instagram Reels and YouTube videos in different formats simultaneously to get the maximum every time you shoot. 
The aluminum light stand has been tested with a 2 kilogram

 load capacity 

weights to ensure it will hold up under the weight of the ring light and your iPad, Smartphone or DSLR camera for years to come.
The 18" Ring light has a 0-100% dimmer switch to fine tine the brightness without being over exposed.
Equipped with Bi-Color color temperature adjustment to vary from 3200 to 5600k to get a Bright daylight effect or soft sunset affect on your subject.
Includes a wireless Bluetooth Remote for taking selfies, or starting / stopping video hands free that has a 30 foot range of operation
It is equipped with a specially designed reverse light stand. These fold up opposite compared to most other light stands so it can fold into a smaller size for travel and make a smaller carbon footprint on the planet.
Each ring light has a variable voltage power brick, so the ring light can be used in any country (you may need plug adapter) weather its in the Americas or Europe (with its 220 voltage) and still work flawlessly.
You can also get optional accessories specially designed for your Socialite Kit such as a 360 degree Face Tracker attachment, sandbags to secure it in windy or busy areas, or caster wheel attachments to move your unit around in your photo studio or apartment.
Designed for you to take the best photos or videos of yourself you have ever taken or your money back
Guaranteed for 1 full year with our full catalog availability of replacement parts of every part or full unit replacement.
This Kit is the ultimate setup if you are shooting any kind of content for social media, salons or professional photo shoots
Designed in Beautiful California 
Order yours today and receive it to your door within 2-7 days
Thank You for all your customer reviews, followers and feedback! We truly appreciate you!
Reviews:
I bought this to set up a photo booth at my sister's wedding. I used it with my DSLR camera, and the quality of the photos was great! This is the easiest way to get professional lighting on your photos!
Had to get this for my daughter (as if I couldn't get her out of the bathroom as it is): now with this light ring, it's become her own personal selfie studio. She and her friends spend afternoons in there, dressing up, putting on makeup, all the things girls love to do and now they're convinced they're all going to be models because "adjustable lighting makes all the difference"- apparently this light kit measures up to their high standards. They swear by it, and if they're willing to bet their social media reputations on this ring, you can too.
By Nazli Seyuva
This light completely changed my instagram game!! I have thrown 2 parties since I got it, people cannot get enough of it, it is super easy to set up and connect to your camera shutter, and the results could not be more amazing and professional! It is what selfie dreams are made of!! You can also use it as a cool floor lamp when you're not using it, it is just the best purchase I have ever made!
I absolutely love this ring light!!! It was very easy putting it together and I love how I can also easily put it away. The ring light was already put together, you just have to sit it on the stand and it's finished. I love that it came with a camera holder and a phone holder with it. It's definitely a very strong lighting if you need it but I really love the fact that I can adjust it. It came with 3 different filters but I think I'll remain using the one that was already assembled on them. I'm very happy with it and I definitely recommend it!!!
😍 
A Special Thank You to all our Social Media Followers and Customers!! 
😍
Love it or Your Money Back Guarantee! 
 p.s.  Don't Wait Order Yours Toady!
Share
View full details
Free Shipping

Fast and Free Shipping within the US Lower 48 States. Delivered to your Door within 2-7 business days!

Hassle-Free Exchanges

No Hassle 30 Days Love it or Your Money Back Return Policy!